Wind Generator and Solar Power Hybrid System at ERDI, Chiang Mai University

The Energy Research and Develupment Institute (ERDI) contacted ENGINO to design and install a hybrid system that would take advantage of both wind and solar energy. The solar power system converts solar energy into electric energy. The wind generators use the power of the wind to spin a generator in order to conduct electricity. This hybrid system has the ability to create electricity both day and night. The electricity from the solar panels and the wind generators is stored in batteries and then discharged through an inverter where the current is changed form DC to AC. After it is changed into AC current, the electricity can be used to power outdoor garden lighting. ERDI did not want to use the hybrid only to run outdoor lighting but also to be used as a teaching tool for the students at ERDI.
The Energy Research and Develupment Institute building in Chiang Mai.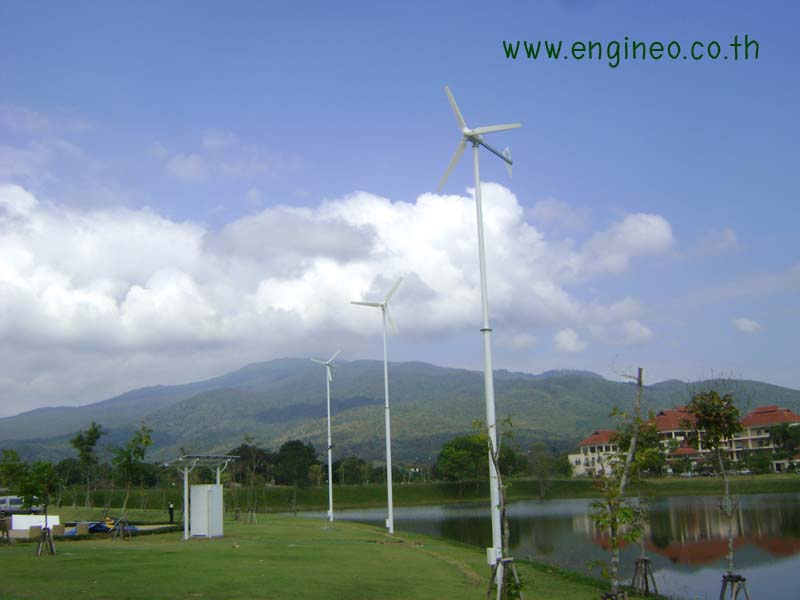 ดั
The wind generators are 200W, 500W, and 1,000W. The solar panel system is 480W.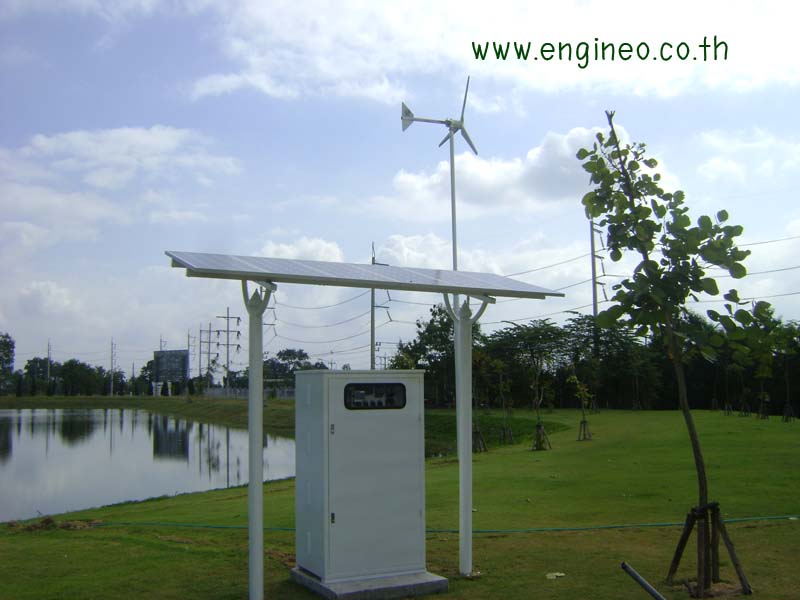 The solar panel system is made of six 80W panels. The support beams were designed by ENGINEO.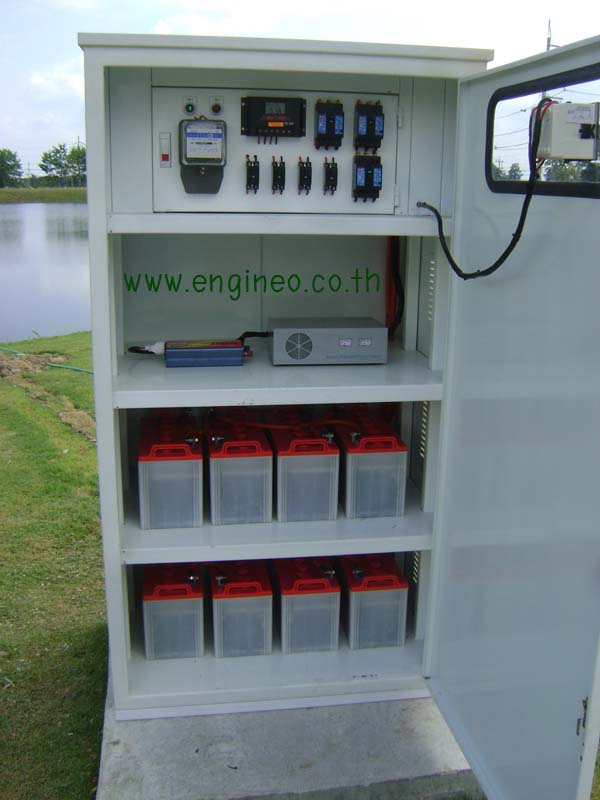 The control box with battery bank and charge controllers.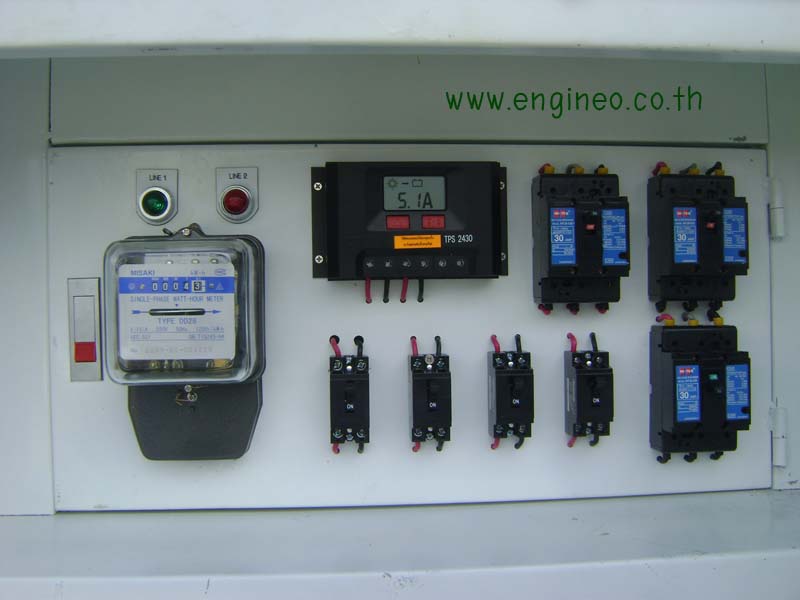 The breakers, meter, and digital charge control display. The green light shines when the batteries are discharging into the lighting system. The red light shines when electricity from the grid is being used to run the light system.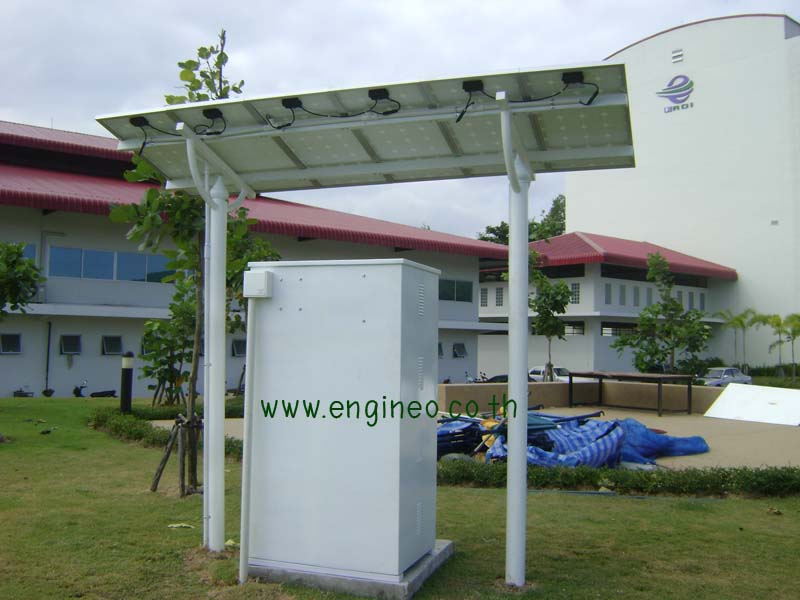 The back of the control box.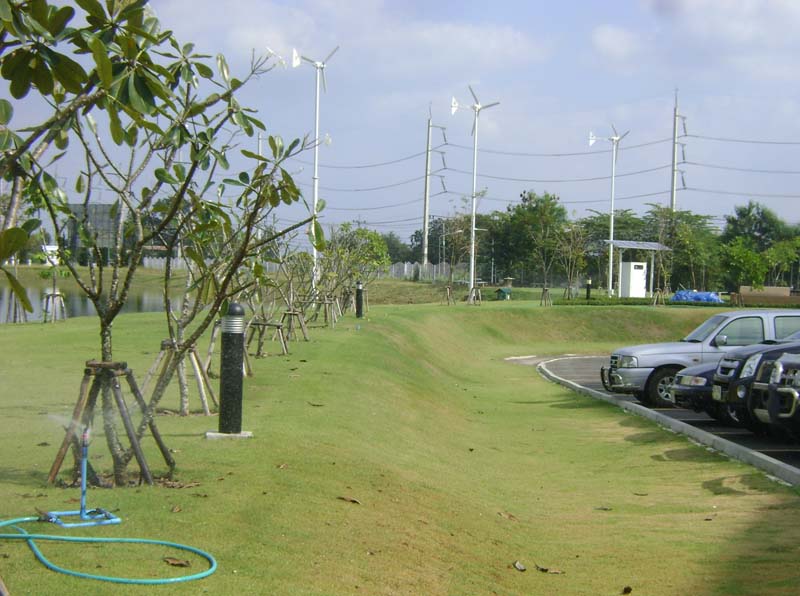 The system can run ten outdoor lights.
View of the system form the ERDI building.

Circuit diagram of the hybrid system.

The final product.

ENGINEO would like to thank ERDI for the oppertunity to work with them.

Anyone who would like to know more is welcome to visit the sight, contact ERDI or ENGINEO.
เอ็นจินีโอ Green energy with green solution
All of products can be delivery to anyplace in the world
We able speak in English please contact by Phone or Email
ENGINEO LTD., PART
76/2 (opposite Bangkok bank) Changphuk Road, Sriphoom, Muang district, Chiang Mai 50200 Thailand
Tel. 66 53 222760,66 53 222570, 66 86 6736880 Fax. 66 53 222570 email; engineothailand@hotmail.com
เอ็นจินีโอโชว์รูม : 76/2 ตรงข้ามธนาคารกรุงเทพ สาขาช้างเผือก อำเภอเมือง จังหวัดเชียงใหม่ 50200
สำนักงาน : 199/586 ม.9 ตำบลสันผีเสื้อ อำเภอเมือง จังหวัดเชียงใหม่ 50300
โทร. 053-222760, 053 222570, 086-6736880 Fax. 053-222570
e-mail: engineothailand@hotmail.com
ยินดีรับบัตรเครดิตทุกธนาคาร




การชำระเงินผ่านธนาคาร

ธนาคาร
เลขที่บัญชี
ชื่อบัญชี
ประเภทบัญชี
สาขา
กรุงเทพ
390-4-40648-9
เอ็นจินีโอ
ออมทรัพย์
ประตูช้างเผือก